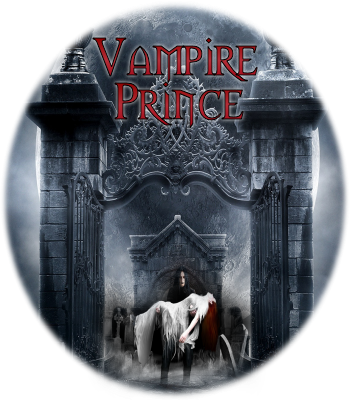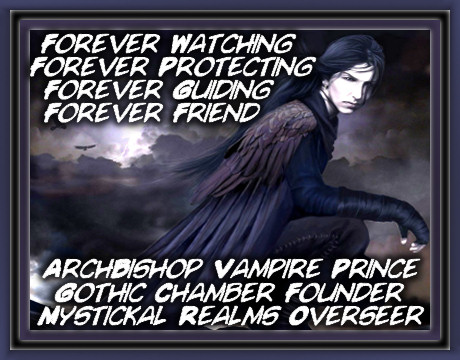 After ten years of dedication to Mystickal Realms, Vampire Prince has decided to retire.
He is going to be greatly missed but will always have a home here at the Realm.
Vampire Prince has had a huge hand in making MR run smoothly and look beautiful.
His graphics are absolutely amazing and his leadership skills are unrivalled.
A huge part of MR's heart is now missing, but hopefully all the wonderfully cherished memories
he has given us will help fill those missing beats. He may be leaving but he will never be forgotten.
When I first came to MR, nine years ago, I was on the Gothic Chamber team.
I had tons of fun and I learned a lot. VP ROCKS!! With his help and guidance, I went from a GC team member
to also being on staff in, at one time, all the committees. Eventually I retired my site from competition
but remained active on the team as Alumni. I just couldn't stay away from being part of Gothic Chamber *smiles*
I, personally, will miss VP a great deal. He is someone who I could always count on, rely on
and know will always tell me the truth (no matter what). He is a great and dear friend. I will cherish him always.
I am sad to see him leave the Realm, but I do hope that he will always be "just around the corner
stoically standing in the shadows with a goblet of blood wine in one hand and a warm, inviting smile resting upon his face".
I hate to see him go and it's breaking my heart. I am in no means saying goodbye as we may be losing a big part of MR,
but I know I am not losing my friend.
Vampire Prince, the Archbishop of the Chamber, built Gothic Chamber up into something amazing and alluring
(he did the same for Mystickal Realms as a whole as well) and no one else should ever stand at GC's helm.
Therefore, the Gothic Chamber team will rightfully be retired as well.
A memorial page will remain up in honor of Vampire Prince and Gothic Chamber.
Vampire Prince and the Gothic Chamber team will forever be a special part of my heart.
If you have an affinity for elements of a Vampiric, Gothic or Dark Nature,
then come inside to meet and compete with other Creatures and Lovers of the Night–you will be able to acquire great recognition for your site,
earn awards, and best of all, meet new friends. So Journey with us into the Darkness of the Gothic Chamber.
If you have a site about:
Gothic, Horror & Dark Fantasy, Mystery & Sci-Fi:
Art, Movies, TV Shows, Graphics, Web & Desktop Themes
Supernatural & Paranormal:
TV Shows, Movies, Anime, Manga, Cartoons, Books, Graphic Novels,
Graveyards, Haunts, Halloween, Creatures of Horror & Darkness;
Vampires, Werewolves, Ghosts, Wraiths, Dark Elves, Dark Fae, Dark Angels;
Role-playing games:
Vampire: the Masquerade, Werewolf: the Apocalypse or Wraith
Then Gothic Chamber would have been the Team for You!!
Our Team consists of Four Levels
PROGENY
Qualifying/First Level
ANARCHS
Second Level
ANCILLAE
Third Level
ELDERS
Fourth Level
Once you have gone through these levels you then move on to the Championship Rounds
On all levels you must vote 4 days in order to advance to the next level.
Vote 3 days to stay at your current level (except champ rounds, where you will be returned to the first level).