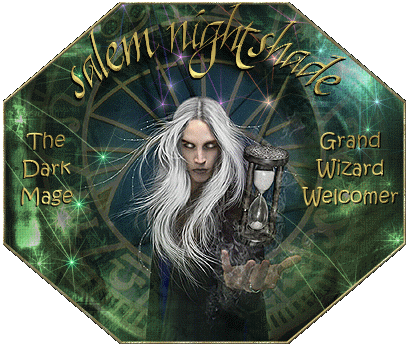 Greetings and Welcome to the
Home of the Wizard Welcomers!!
Welcoming Wizards are the welcoming committee for Mystickal Realms. At the beginning of each week, they are given a list of new sites
to welcome to Mystickal Realms Competition.
he number of sites that are to be welcomed each week depends on the number of sites approved for the week by the Sanctioners.
Any individual who is interested in being on this Committee should be willing to give a minimum of 2 hours a week of their time.
They also should have knowledge of html, must know how to attach a graphic in an email, and place graphics in guestbooks.
Wizard Welcomer Rules
Weekly Rollcall & Assignments will be posted at the Wizard Welcomer Group by Sunday Evening;
however, most of the time, you will have your assignment by Saturday.
1) ROLLCALLS & ASSIGNMENTS
If you miss 2 Rollcalls and Assignments in a row, a letter of Warning will be sent.
Non-response to the Warning Letter may lead to your removal from the Committee.
A) ROLLCALLS
You MUST respond to Rollcalls by TUESDAY
This assures me that you are interested in being a part of the Group, are getting Group mails and that you are being kept apprised
of what is going on within the committee. It is your responsibility to make sure that you sign up at the Group with an email that you will receive mail.
If you have an email change or update, you need to change it at the group.
B) ASSIGNMENTS
All assignments must be completed by THURSDAY of the Week the Assignment is given.
When you complete your assignment, you will need to mail back to the group that you have done so
and annotate next to the Site name whether you welcomed it by Guestbook or E-Mail.
EACH WIZARD WILL WELCOME ALL SITES!
All posted assignments will have sufficient
information for each site for you to do you task:
Name of Site
Site URL
Name of Fighter
E-Mail Address
Our preferred way of Welcoming new Fighters is to go to their Guestbook and leave a Welcoming Message.
If you need a Sample Message or help with HTML, you can go to the Welcome Basics & Guestbook Help Page
and use the one there–or any deviation of it–just as long as the important information in the Sample Message is in the one you decide to use.
If the Fighter has no Guestbook, or it does not accept HTML or accepts only a certain amount of characters, you are allowed to send them the Welcome by Email.
2) OTHER MAIL
Respond to any mail that may ask questions or opinions as soon as you get them.
3) LEAVE OF ABSENCES
PLEASE SEND ALL LOA REQUESTS TO MY PERSONAL ADDRESS–NOT THE GROUP!
IF YOU BELONG TO ANY TEAM, PLEASE DO NOT FORGET TO NOTIFY THEM AS WELL
1 – 2 Week LOA's
a1) When requesting an LOA you need to let me know IN WRITING and HOW LONG it will be for. When the end of your LOA comes up,
you need to confirm IN WRITING that you are once again available and officially returned from your LOA.
I have had too many people say they are going on LOA and then disappear and never contact me again.
a2) When taking a regular 1 – 2 week LOA, you will not have to respond to Rollcalls during that time.
HOWEVER, if you do not return from LOA when promised and do not write to me that you are present and ready to perform your duties,
you will be sent a Warning Letter.
Non-response to the Warning Letter may lead to your removal from the Committee.
Extended LOA's
If you need to take an LOA that is longer than 1 or 2 weeks, you will need to do the following:
If you feel you have a valid reason (Illness, Work Schedule, Computer Issues, etc.) that require you to take an LOA for longer than 2 weeks,
you must submit a letter to me explaining the reason you need more than the Standard 1-2 week LOA and the expected date of return.
I will put you on 2 weeks LOA then will forward the letter to our Owner, Demonosia, for approval.
If you are approved for the Extended LOA, an approval confirmation will be sent to you and you will be set.
Once your ELOA is up, you will need to contact me by the return date that you put in your initial request.
If you do not, you will be sent a letter of warning — no response to the letter will result in your site being removed from the Committee.
If your request is not approved, you may asked to step down from the Committee and rejoin at a later time.
If you do not follow the above rules, you WILL be removed.